This Week at Dragonfly Quilting & Gifts - New Arrivals - Pre order New Fabric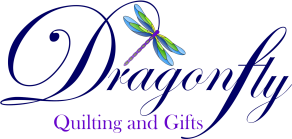 Honesty, quality and
good old fashioned
customer service!
WE ARE OPEN
Tuesday - Saturday- 10am -4pm
Closed all Statutory Holidays

604 575 8660
dragonflyquilting@csm.ca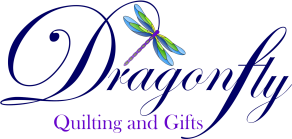 New Fabric Collection
Delivery September 2023
Pre-Order before fabric arrives receive
20% Off fabric & Pre cuts
Check out these beautiful kits- Available to purchase.
PERIWINKLE SPRING KALEIDOSCOPE QUILT KIT
64" x 86½" Pre-order September 2023
Includes pattern, fabric for top & binding
Only $194.36 Regular $242.95
PERIWINKLE SPRING GARDEN TWIST QUILT KIT
63" x 74" Pre-order September 2023
Includes pattern, fabric for top & binding
Only $128.76 Regular $160.95ea
Tuesday - Aug 1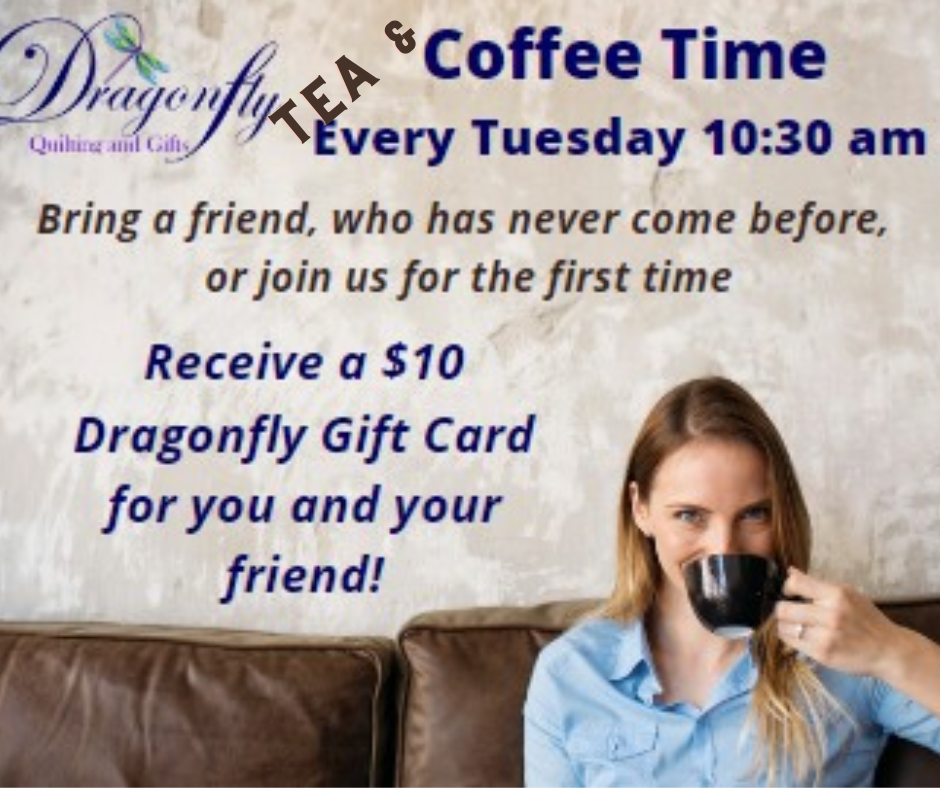 Tea & Coffee Time - 10:30 - 11:30
Topic - Batting - What is best for your next project.
Plus receive 15% off all regular priced items
Wednesday - Aug 2
Embroidery Club with Yvonne - Space available
Does not matter what type of machine you own,
Plus receive 15% off all regular priced items
Thursday - Aug 3
Thread Thursday - 10:30 - 11:30
Topic - All about Bobbins
After the talk, need help with your machine, let us help you solve your thread issues.bring your machine and have Yvonne.
Does not matter what type of machine you own, we just want you to use it!
What is the difference between Coffee Time on Tuesdays and Thread Thursdays?
Thread is the foundation of every quilt and sewing project. Everyday we are asked what thread to use for different projects. Embroidery, quilting, sewing, free motion, & long arming.
Thread Thursday will be an interactive discussion to learn from each other, and to show projects using different types of thread.
After the meeting, we will have an open sewing day where you can bring in any project you are working on and Yvonne Menear will give you confidence and inspire you.
Plus receive 15% off all regular priced items
See you Thursday at 10:30am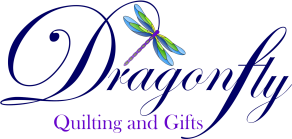 Thank you for all your support in our amazing classroom / retreat centre.
Check out our full August Schedule
See open spaces in the calander?
Yes, you can book the entire day starting at $100 day.
Call 604 575 8660 or email dragonflyquilting@csm.ca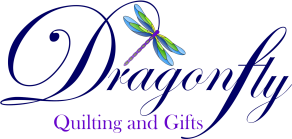 Why buy a Singer Iron from Dragonfly Quilting & Gifts
100% Satisfaction guarantee - we will replace if you have any problems!
Why we love the irons
Great Price
Heavy - This is what you need to press easily
HOT- Great Steam.
30 minute shut off
Long Swivel Cord
Includes Heat Resistant Iron Pad
Only $106.46 - Regular $141.95 - In Stock
Works on all Fabrics
ONPOINT TIP TECHNOLOGY - easily iron around buttons, seams, and pleats for a crisp finish.
STRONG BURST OF STEAM-Enjoy expert results with 1800 watts of steam.
Watch wrinkles fade away as you relax your fabrics with steam and then easily press creases.
There's also an ECO mode, using less energy to produce high quality steam.
DIGITAL DISPLAY-Always have the right heat for the fabric you are ironing!
30-MINUTE VERTICAL AUTO OFF DELAY-keeps your iron ready during long projects.
VERTICAL STEAM MODE-easily steam the wrinkles out of curtains and delicate garments.
LARGE WATER TANK-Less refills are needed with the 300ml water tank. E
12 FOOT 360 DEGREE CORD-Increase your range of movement while ironing with this useful feature.
STAINLESS STEEL SOLEPLATE-The smooth Stainless Steel surface heats up ultra-fast for quicker results.
TAP WATER SAFE-Includes an internal anti-calcium filter that makes the iron tap water safe.
Only $89.96 - Regular $119.95 - In Stock
Features:
• OnPoint Tip (patent pending) for a more detailed finish on
buttons, cuffs, pleats and opening seams
• Large water tank capacity = 300 ml
• Water tank has integrated funnel so it is easy to fill
• Tap water safe with anti-calcium filter
• Self-cleaning
• 30 minute vertical auto-off delay
• Ergonomic grip with easy reach to
controls
• 360° cord pivot to protect power cord
• Quick Start instructions
Only $49.29 - Regular - $57.95 - In Stock
Time Saving - you never have to unthread your machine to wind your bobbin.
* Easy, one-touch bobbin winding with auto shut-off when the bobbin is full.
* Portable compact bobbin winder allows you to easily take it anywhere.
* Power Adapter (included) or battery-operated (3AA batteries not included).
* Custom designed for use with HUSQVARNA® VIKING® bobbins.
* For Groups: 5, 6, 7, 8, 9 (Not for: EMERALD series, EDEN ROSE 250M,TRIBUTE 140M, JADE 35, 20).
Only $18.71 - Regular Price $24.95 - In Stock.
Compact Lint Remover Features:
• Compact design for travel and storage
• Safely removes lint and fluff from clothes, towels, carpet, sweaters, and more
• Detachable lint catcher collects fluff and makes for easy disposal
• Battery-powered, perfect for travel
• Ergonomic handle for comfortable use
• 3 stainless steel rotary blades will keep sharp for years of use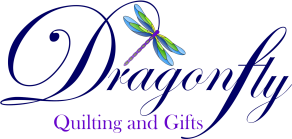 Honesty, quality and
good old fashioned
customer service!
WE ARE OPEN
Tuesday - Saturday- 10am -4pm
Closed all Statutory
Holidays

604 575 8660
dragonflyquilting@csm.ca