Skip Navigation
Website Accessibility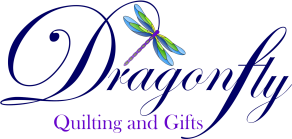 Honesty, quality and
good old fashioned
customer service!
WE ARE OPEN
Tuesday - Saturday- 10am -4pm
Closed all Statutory
Holidays


604 575 8660
dragonflyquilting@csm.ca
SOLD OUT - Mothers Day Gift Boxes - What Quilt Show would you want to go to?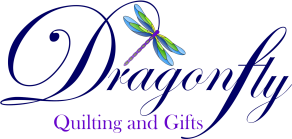 Honesty, quality and
good old fashioned
customer service!
WE ARE OPEN
Tuesday - Friday - 10am -4pm
Saturday - 9am - 4pm

604 575 8660
1 800 663 0226
dragonflyquilting@csm.ca
Thank you for the overwhelming confidence to order our inaugeral "Mystery Boxes"
I know we said April 21 was the cut off date,
but due to the overwheling number of orders last week,
we want to ensure that each Mystery Box will exceed your expectations.
Stay Tuned - MAY 11,2023
we will release our next collection of MYSTERY BOXES!
Exclusive to Dragonfly Quilting & Gifts.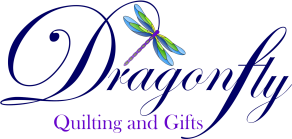 It is show weekend in Abbotsford,
Dragonfly Quilting & Gifts will be there!
Plus many other amazing vendors.
Get you car load of friends together!
Friday April 21 and Saturday April 22
10am - 4pm each day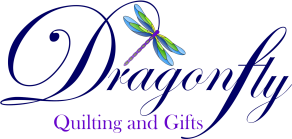 Do you have quilting friends in the following towns?
Merritt

Logan Lake

Lac Le Juene

Kamloops

Salmon Arm

Cache Creek

Princeton

Lilooet

Hope

Kelowna

Peachland

Summerland

Vernon

Sorrento
IT IS VERY IMPORTANT TO FORWARD THIS EMAIL TO THEM.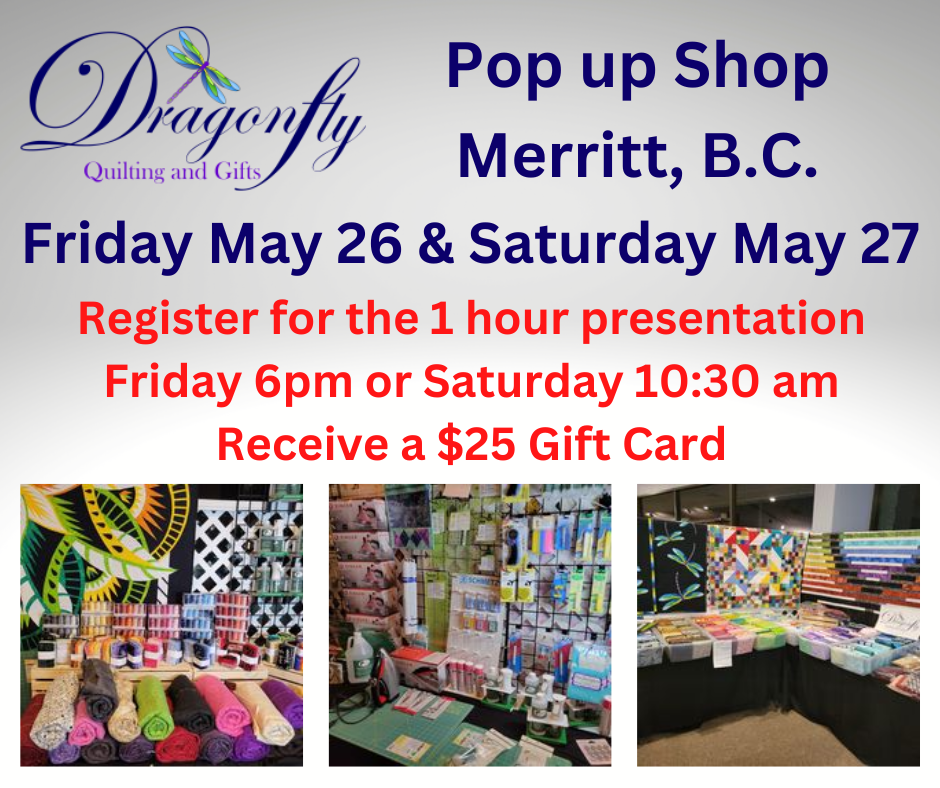 CLICK HERE TO REGISTER FOR FRIDAY OR SATURDAY
If you thougt the Oliver Quilt Show this weekend was great?
Come to Merritt Friday May 26 & Saturday May 27
Where - Merritt Legion
Cost - FREE
Who can attend - Anyone who wants to learn more and be inspired.
Times -
Friday 6pm - Perfect for locals after work
Saturday - 10:30am - Perfect for out of town customers to enjoy a Saturday drive and be home by dark.
PLUS - Every person who registers and attends will receive a $25 Gift Card for a future online or instore purchase
Kevin, along with a Dragonfly Quilting Team member,
will host an informative trunk show of products to inspire and inform quilters and sewers of all levels.
Topics to be discussed
Notions - Why these notions will "Change" the way you quilt.
Thread - Let us expand your horizon of using "One type of Thread"
Needles - "Interesting" I thoght a needle lassted forever.
Batting - Tips from professional longarmers.
DITTO - Paper patterns are a thing of the past - Let us show you how.
At a show, we are unable to give you all the reasons why we have a 40 foot notion wall at Dragonfly Quilting & Gifts.
Our customers are the biggest source of information, because you use the products.
We just listen to you and pass along what makes these cool gadgets a must have,
Plus Kevin will be selling the following ITEMS at the show
Fabric - As low as $10 metre
Notions - Hundreds of amazing notion - Prices too low to publish..
110" Widebacks - Prices too low to publish.
*96" Pellon 80/20 Batting
Regular Price $19.95 metre.
10yd roll - Only $140 - Save $41 - Only - $15.38 metre
30yd roll of batting - Only $385 - Save $161 - Only $14 metre
Batting must be pre-ordered - Kevin will deliver for Free

Are you a professional longarmer - Let Kevin deliver to Merritt and get FREE DELIVERY - Call for special pricing
* Iron Crafting Station - Regular $599 On Sale for $399 - Must pre-order item in advance.
Please note this item is not available for shipping due to the extreme size of the box.
But Kevin can deliver for FREE to Merritt!
*Husqvarna Viking & Singer Sewing Machines - Prices starting at $299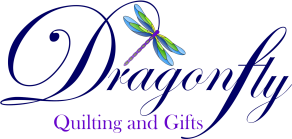 Honesty, quality and
good old fashioned
customer service!
WE ARE OPEN
Tuesday - Friday - 10am -4pm
Saturday - 9am - 4pm

604 575 8660
1 800 663 0226
dragonflyquilting@csm.ca