Skip Navigation
Website Accessibility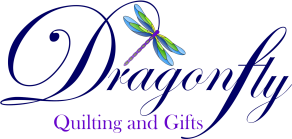 Honesty, quality and
good old fashioned
customer service!
WE ARE OPEN
Tuesday - Saturday- 10am -4pm
Closed all Statutory
Holidays


604 575 8660
dragonflyquilting@csm.ca
It is A Show Weekend in Oliver, B.C - Have you ordered your Mystery Box - Deadline extended to April 21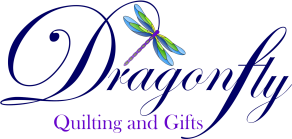 Honesty, quality and
good old fashioned
customer service!
WE ARE OPEN
Tuesday - Friday - 10am -4pm
Saturday - 9am - 4pm

604 575 8660
1 800 663 0226
dragonflyquilting@csm.ca

NEW
*FREE SHIPPING ON ORDERS OVER $99
It is show weekend.
Do you know what this means.
The deals at the Oliver show, apply at the store too.
6359 Park Drive, Oliver B.C
Plus our friends from Poppins in Penticton are beside us.
Sorry, I did not take pictures of their booth, but it looks great.
The quilt show is incredible too, you must come and see.
Check out our booth in Oliver!
Buy 5- 1 metre cuts - $50 - Over 1000 fabrics to choose from.
More details below.
$100
Every $50 you spend on fabric or widebacks
30% of 1 notion.
Buy $100 fabric - get 2 notions 30% Off
And Sew on
More details below.
110" Cotton or Flannel Widebacks - $60 each
More details below.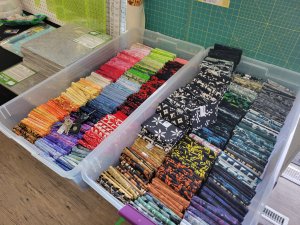 Buy 6 Fat Quarters - $15 (Only $2.50 Fat Quarter)
More details below.
Here are the scrap bags - Price works out to approx $6 metre.
More details below.
The promotion I am about to present to you,
I have never have done this before, so lets have some fun (chaos)
Before I get myself into trouble,
I was given a coffee mug from the staff with " Oh Kevin" printed on it.
What it means is that I am always getting myself into trouble and they go
"Oh Kevin" what did you do now.?
My staff will not be happy with this promotion,
but, I am in Oliver with the Double O Quilters Guild.
I hope they will forget by Tuesday. "Oh Kevin"
This is very appropriate for what I am doing now.
So here it goes
Come to the store Friday & Saturday or the Oliver Quilt Show show and say - "Oh Kevin" and you will receive an $10 gift card to be used towards your next purchase (Only one gift card per customer) Can be used online or in-store.
Online customer when placing an order on Friday or Saturday - In the notes say" Oh Kevin" Refunds will be applied accordingly to items purchased and gift card will be sent for your next order.
You may also call in your order.
Purchase 5 - 1 metre cuts of any 45" quilting cottons- For $10 metre.
The ladies in the store will cut it for you.
At the show, we have over 1000 fabrics.
Promotion 3
*30% off notions
*Every $50 of fabric purchased on Friday & Saturday including widebacks receive 30% off a notion - Spend $100 - 2 notions 30% off and sew on.
30% does NOT apply to the Acorn E-sprayer.
Scrap bags will be available for 2 days only.
Each bag is colour coordinated with great fabric in sizes no smaller than 6" x 12"
Only available in store and in Oliver Friday & Saturday
Promotion 5
Buy 6 Cantik Batik Fat Quarters for $15 ( That is $2.50 each)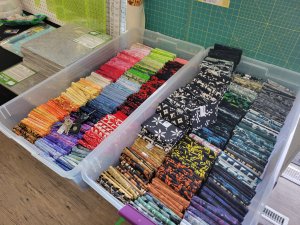 Whew, this is going to be fun.
Looking forward to seeing you in Oliver!
Have you ordered your Mystery Box?
Last week during Thread Thursday we gave the participants a sneak peek at a $75 Mystery Box.
The group was hesistant to purchase based on not knowing what it looked like.
Not only was the group excited about the mystery box, they encouraged each other to buy one for themselves, friends and family members.
Plus - Tuesday May 2nd we will be having a Mystery Box reveal with all the participants who have purchased to "SHOW OFF" there Mystery Box.
Thank you for the many order and the questions that come with it.
Our Mystery Box is unique, original and one of a kind.
Each box will contain one or more projects
Plus
The box is worth 2-3 times its value.
Notions to complete the project
Thread to inspire you
Other goodies to make this a great Mothers Day Gift.
Other stores have used Mystery boxes to clear out stuff.Can I choose the colours
Sorry, it is a mystery.
Our staff have personally choosen the colours to ensure you or a friend will be impressed.
Boxes are availble in $25, $75, $125, $175, $250 & $500
FREE SHIPPING ANYWHWERE IN CANADA ON ORDERS OVER $99
Orders must be placed by April 21, to ensure delivery by May 1, 2023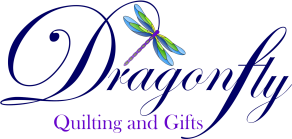 Honesty, quality and
good old fashioned
customer service!
WE ARE OPEN
Tuesday - Friday - 10am -4pm
Saturday - 9am - 4pm

604 575 8660
1 800 663 0226
dragonflyquilting@csm.ca

NEW
*FREE SHIPPING ON ORDERS OVER $99