Do you work during the week? - Do not miss the "Try it before you buy it" event Saturday Feb 4 - In Store 10am - 2pm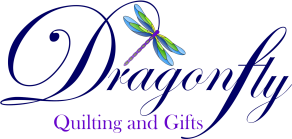 Honesty, quality and
good old fashion customer service!
WE ARE OPEN
Tuesday - Friday - 10am -4pm
Saturday - 9am - 4pm

604 575 8660
1 800 663 0226
dragonflyquilting@csm.ca
DO YOU WORK DURING THE WEEK?
THIS EVENT WAS CREATED JUST FOR YOU.
LIVE DEMO DAY.
Live demos Saturday 10am - 2pm
Curved Piecing - How to get started.
Embroidery - The basics you need.
Cutting - New Quilters Select Cutters & Blades.
Irons & Wool Pressing Mats & Bars - The secret to pressing.
The first $100 you spend on Saturday
receive 30% off 2 Select Quilters Select Rulers
6 x24 ruler and/ or
12 1/2" x 12 1/2" ruler.
On Sale Only $66.47
Regular Price $94.95
AND/OR
Easy Press: Starter Kit - pen/4 oz solution/1 oz Seam Align glue
*On Sale Only $31.47
Regular Price: $ 44.95
Easy Press: Combo 16 oz Treatment with Mist Bottle
*On Sale Only $39.17
Regular Price: $ 55.95
THE JUG
On Sale $74.87
Regular Price: $ 106.95

Looking for a new Husqvarna Sewing Machine
Dragonfly Quilting & Gifts offers
Machine upgrade program within 1 year of purchase.
Amazing support for life.
We ensure the machine matches your needs.
"No Pressure" sales team who will listen.
Thread Thursday is Free to support all brands of machines.
Quick Fact - Did you know that you DO NOT need to have Husqvarna Viking serviced once a year.
Why, Husqvarna Viking is self oiled and is built to ensure you will be happy with your machine for a LONG TIME.
The extra few hundred dollars you save buying a Husqvarna Viking, will "PAY BACK" over the lifetime of your machine.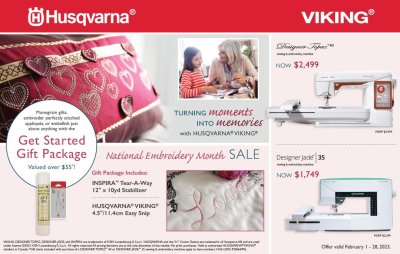 Looking for a great Classroom Machine
OPAL 690Q - SEWING MACHINE BY HUSQVARNA VIKING
$1899
*Plus a $300 DFQ Gift Card
$2299
Plus a $400 DFQ Gift Card
DESIGNER TOPAZ 50
SEWING & EMBROIDERY MACHINE
BY HUSQVARNA VIKING
AMBER AIR S/600
AIR THREADING COVERLOCK
BY HUSQVARNA VIKING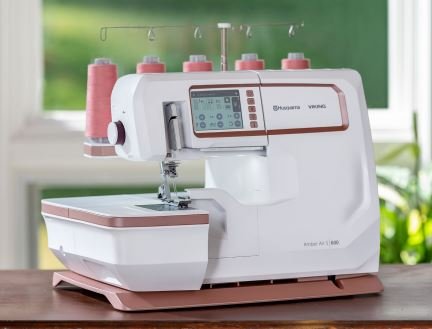 *Receive $500 DFQ Gift Card
---
---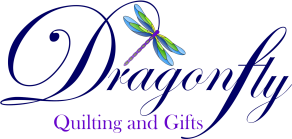 Honesty, quality and
good old fashion customer service!
WE ARE OPEN
Tuesday - Friday - 10am -4pm
Saturday - 9am - 4pm

604 575 8660
1 800 663 0226
dragonflyquilting@csm.ca???????