A COLOURFUL email with $13.97 metre fabrics - NEW - Colour Theory Club Kits - You choose what you like.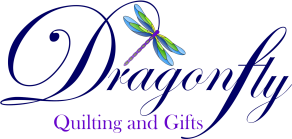 Honesty, quality and
good old fashion customer service!
WE ARE OPEN
Tuesday - Friday - 10am -4pm
Saturday - 9am - 4pm


604 575 8660
1 800 663 0226
dragonflyquilting@csm.ca
Did you miss our Colour Sale last week?
We are doing it again,
with a twist.
ONLINE ONLY
Weekly Colour Sale - $13.97 metre.
Plus Free Shipping anywhere in Canada on orders over $99
Blue / Turquoise / Purple - Tuesday January 24 - Monday January 30
Green /Yellow / Orange / Brown- Tuesday January 31 - February 6
Black / White / Red / Pink - Tuesday February 7 - February 13
---
---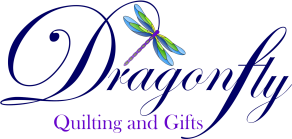 IN-STORE ONLY
$13.97 Metre
Minimum .5 metre cuts
All fabric in store
Cottons, Batiks or Flannels
One Day Only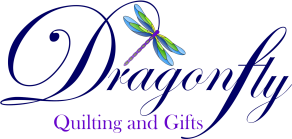 Welcome to
New Colour Theory Club.
Colour Theory Club was created by an enthusiastic group of ladies at Tea & Coffee Time.
They all had an opinion.
The concept behind the Club, is to challenge quilters to
"Think colour outside the box"
Dragonfly Quilting & Gifts has a limited supply of kits available to purchase.
Each kit is 30% off and includes FREE THREAD.
Colour wheels work, but
"Gut instinct is a lot more creative"
This month we are featuring Hypnotized by Villa Rosa
I asked Dale Quadros, who has posted many projects on the Dragonfly Creative Stitchers Club on Facebook.to make a quilt using Hypnotized by Villa Rosa Designs;
Panels are fun, but can be challenging.
Borders look easy, but do add a level of confidence.
Dale chose the following fabrics
Outer Border - 2JYH-3
Border has a multitude of colour to gives us many different colour options
First Border - FRAC-4123 F
This pink fabric is perfect. A model texture of colour to move ligt to medium colours
Background - 1060 - 871
Backgroud is light and bold, and compliments all the colours of the quilt.
This fabric created the most discussion in the gtoup.
Frame Fabric - MAS513 - GS
Great choice to work against the panel.
.if you choose pink, or blues, for the frame,
you would not notice the detail in the panel and make the quilt more busy
Panel -WILB-4006 MU
Panel is fun with lots of activity to make the quilt come alive.
Binding - .7 metre - 10054 PV
Personally I love bindings when they add statement.
Gives the quilt some extra personality.
Stripes and colourful checks are great for a binding.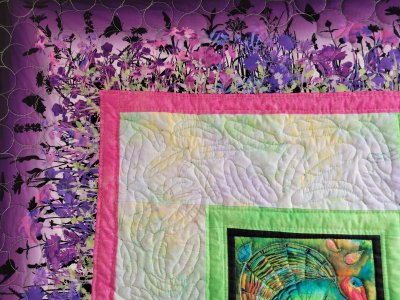 A poll was done who loved the quilt - 50/50 split.
We then began discussing what could have been done differently
The border is gorgeous, we all agreed on this.
The border was an excellent choice as it was a very good contrast.
The panels are personal choice, overall they were liked
What if the backgrond was a
white?
Not a good idea too stark, but....
What if the background was white and
add coloured thread to create an amazing contrast.
Tou could even use markers and do bobbin work.
This was a "Great idea" moment.
TAKE A CLOSER LOOK AT THE QUILT,
WHY DOES THE QUILTING STAND OUT SO MUCH?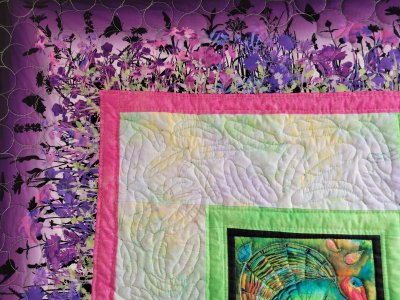 Wool batting was used.
This will show of the quilting more because of the extra loft.
The quilting was done with a 50wt thread to show off the thread and the quilting.
Interested in making this quilt?
Regular Price $120.95
Colour Theory Club Price - Only $72.57
Free shipping anywhere in Canada on orders over $99
Pattern - Hypnotized by Villa Rosa Designs
Size 63 x 63
Quilted - 50wt verigated thread by Wonderfil.TU28
Batting -100% wool which gives much greater loft.
Each kit includes
Pattern
Fabric to make the top and binding
2 spools of 50wt Konfetti Thread
Available with three different backgrounds
Feather Background
Turq / Pink Background
White Background
CT1 - orig - Feather background
CT1 - Turq/Pink - Turq/pink background
CT1 White - Solid White background.
Want to be part of the process.
Join us every Tuesday at 10:30 am
Just drop on in.
We are building an amazing community.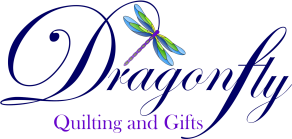 Honesty, quality and
good old fashion customer service!
WE ARE OPEN
Tuesday - Friday - 10am -4pm
Saturday - 9am - 4pm


604 575 8660
1 800 663 0226
dragonflyquilting@csm.ca